Aside from the riding itself getting reacquainted with cycling gear and the places to purchase it has been an eye opener. A few of my favorite shops are gone, some have merged, others remain while some are brand new to me. One such store that is new to me is TRIVILLAGE. TRIVILLAGE showed up on my radar while seeking a helmet for road cycling as my GIRO HAVOC mountain bike helmet was not cutting it on the road. The helmet that caught my eye at the TRIVILLAGE website is the LAZER GENESIS HELMET RD.
I will admit the first thing about the LAZER GENESIS RD HELMET that caught my eye was the appearance. The helmet just looked fantastic. I went on to read the description of how the LAZER GENESIS HELMET RD secures differently to your head than any other helmet. It utilizes a system called the ROLLSYS RETENTION SYSTEM. The ROLLSYS RETENTION SYSTEM is adjusted by rotating a knob on top of the helmet which in turn tightens the headband for 360 degrees around your head. No fussing with with buttons and such at the back of the helmet.
Another nice thing about the LAZER GENESIS RD HELMET is that there are a few very useful accessories. There is a visor to convert the LAZER GENESIS RD HELMET to a mountain bike helmet, there's a mesh screen type cover to keep insects out and finally there is a fitted cover to keep rain and cold from entering the helmet. (I will add pictures later in a complete review)
It's important to note that the ROLLSYS RETENTION SYSTEM is so versatile the helmet is only manufactured in two sizes. I'm a pretty big guy at 6 feet with an average sized head and the smallest helmet fit me easily.
All the information above lead me to order the LAZER GENESIS RD HELMET and all the accessories mentioned above. The helmet arrived quickly. It is so unlike most cycling helmets it was the center of attention at my desk at the office. Visually it was a hit among my co-workers.
That day I flew out of the office to get home and take the helmet out for it's first ride. The first thing I liked was the fit. A few turns and the helmet snugged up well. Here's the funny thing after about 5 minutes I forgot I was wearing a helmet. I found I kept checking to see if I was wearing a helmet. It was odd. I was very pleased. About 45 minutes into the ride I started to get a headache which is a rare occurrence for me. I blamed it on being out of shape in the cold New England air. I headed home completing my quick 12 mile loop.
A few days later we were treated with an unexpected snow storm that kept me from heading out again. Then finally on Sunday it turned sunny, 60 degrees and the snow melted. I hit the pavement once again. This time I did not find myself checking that the helmet was in place. About 45 minutes out I got a headache again. It was at that time it hit me. I was wearing the helmet too tight. I reached up and turned the adjusting know a few clicks and within a minute my headache was gone.There was no difference in how secure the helmet was attached. I was just over doing it.
I have since been out two more times without issue. I will go on record to say so far this is the best helmet I have ever stuffed my noggin in. I cannot recommend the LAZER GENESIS RD HELMET enough.
At a later date I will update the pictures and follow up with a full review. For now visit TRIVILLAGE and check out the LAZER GENESIS RD HELMET  for yourself. Thank me later or better yet comment on this post.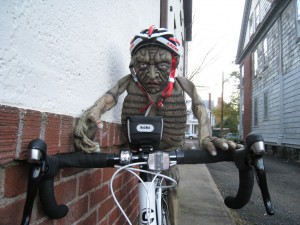 Side note: Lazer Sports has used my zombie pictures on their Lazer Helmets Facebook page. Be sure to stop by and "like them"
---
---
Save
Save