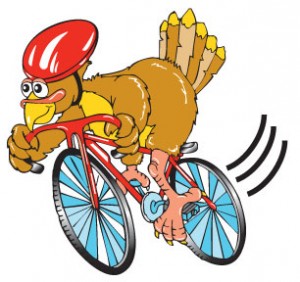 Thanksgiving day bike ride "The Turkey Ride" – Since labor day weekend I have been on a very strict diet per doctors orders. I have been eating like a rabbit that dines on chicken. A few weeks ago I decided that I was going to eat whatever I wanted for Thanksgiving dinner and not feel guilty. We today the magic day arrived, we sat down for dinner. As the various traditional sides were passed from person to person I did a fantastic job of portion control. In fact this was the first time ever my plate was large enough for the task at hand. I managed to clean my plate in a pretty slow fashion, savoring the Turkey, Mashed Potato's and Turnips all lathered in gravy. Eventually I cleaned my plate and was comfortably full. Well I was full until the little woman asked if I want more meat. How could I refuse? So on my plate went more Turkey, Mashed Potato's and Gravy. I finished that off and felt bloated beyond belief. At this point my jeans were screaming for me to loosen my belt a notch or two. I did not budge. Instead while the table was being cleared to make room for dessert I decided to take the dog for a walk and the walk surely burned 2 or 3 calories. Upon returning to the table I was greeted with 2 slices of poppyseed loaf, warm and covered with butter. Not to insult my hosts I devoured them. We sat around for a bit and I decided everyone was about to nap and I would use this time to exit and head home.
Upon returning home and exiting my pickup truck I was struck by what a beautiful day it was. It was sunny, clear, low fifties and more importantly low traffic. I rushed in the house and over dressed in my bike gear. Withing minutes me and my belly full of Turkey were under way. Now here's the odd thing. Considering how full I was I was feeling great in fact I new I was going to smash my 12 mile time and I did. Beat my previous best time by 4 plus minutes. According to MapMyRide I burned 1173 calories on my 54 minute ride 12 mile ride. Translated this means to maintain my calorie counting diet I still had 1041 calories left for supper to "Maintain my weight". While that is not enough calories to eat the turkey dinner for a second time it is enough calories to have a decent portion of turkey and mashed potato's.
I just realized it's supper time.
Happy Thanksgiving
---
---
Save