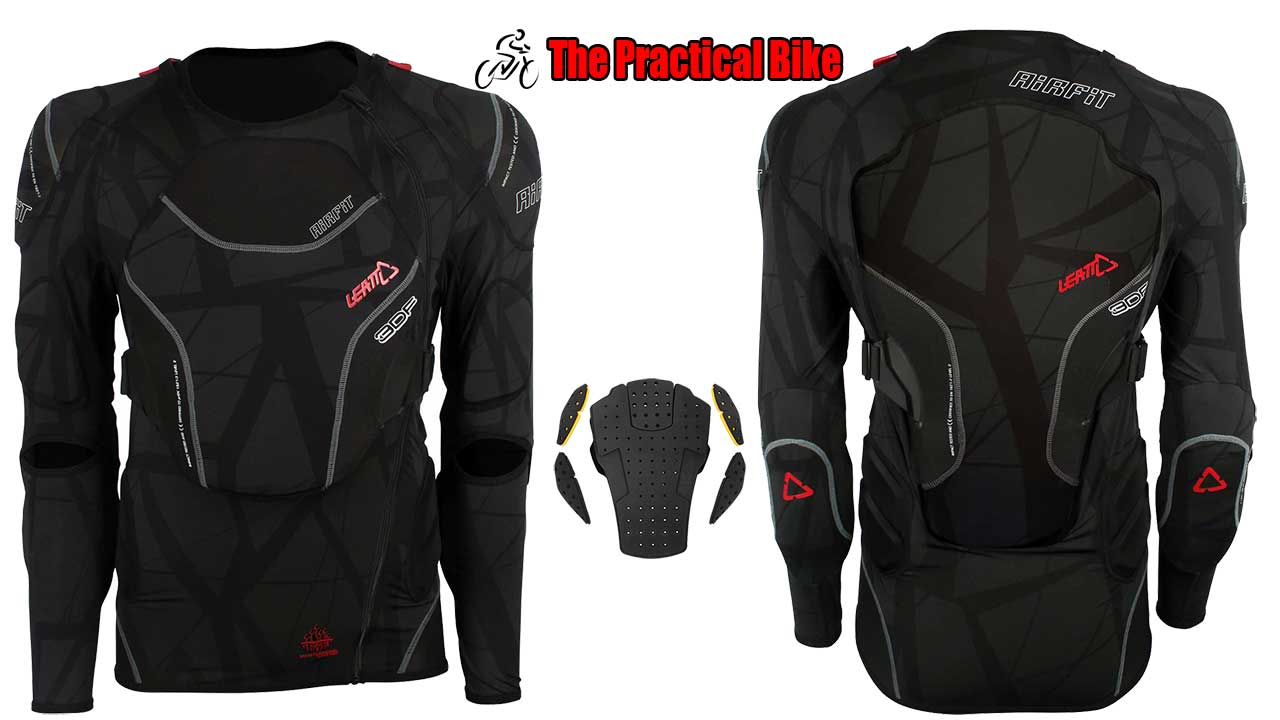 LEATT BODY PROTECTOR 3DF AIRFIT REVIEW
WHY BUY MOUNTAIN BIKING BODY ARMOR LIKE THE LEATT BODY PROTECTOR 3DF AIRFIT?
A while back I spent a few days in the hospital because my intestines twisted and blocked. It was a pretty bad experience. Upon getting released from the hospital I hit the trail hard in fact too hard. I was riding at the Quillan Reservoir Dam in Ansonia, Connecticut. It's a small park a few minutes from where I works. Coincidentally Thule is across the street from where I work and the Thule folks mountain bike at Quillan Reservoir during their lunch break. Anyhow it was the last week of June, it was oppressively hot and humid and the root and rock filled trails were well lubricated with moisture and moss and for me that was a recipe for disaster.
Crash 1: Often when mountain biking if I see an unfamiliar trail I will pedal part way just as a marker for whatever trail or gps app Im using that day. Later I review and see if I can determine where the trail goes and make a mental note for my next ride. Seems harmless right? Not on this day. This is because the entrance to the trail was a steep slick rock that was wet and mossy. Unfortunately "wet and mossy" translated to grease, as I pedaled up and approached the top I lost all traction and the bike unable to keep traction slid backwards. The crash was one of the worst I ever had. My leg slid under the front chain ring which with 6 or so teeth removed a bunch of flesh it looked like I was attacked by a grizzly bear. The pain was quite considerable and drowned out the other pain of having elbows, hips and knees crashing into the rock but make no mistake I was hurting. Eventually I was able to suck it up and continue riding.
Crash 2: Not 2 minutes after crash 1 I was heading down a relatively steep mildly rocky ascent that was washed out in places with heavy rain. Under some loose leaves was a rock in just the right position to stop my front wheel dead in it's tracks and send me over the bars and onto rocks flat on my back. I felt like the Hulk smashed me. This now left my back bloody and bruised. Once again picked myself up and continued on and back to my car. My body was a painful wreck.
Crash 3: or as I refer to it the "Game Changer". My favorite place to ride locally is West Rock Ridge State Park located in New Haven and Hamden, Connecticut. I spent about 13 of my 21 years in New Haven riding in this park. The last 4 I rode really hard as I fought to get back in good health. I was in great shape and had a few favorite trails where I was always trying to best my previous efforts. Well it was late August about two months after the previous crashes and I was on a record breaking ride and within about 30 feet of the end of the trail thing went bad, really bad. Not sure what exactly happened but my best guess is an old mountain laurel stump took me down. I was pedaling as fast as I could when suddenly the handlebars were wrenched from my hand and were instantly turned full left at which point the bars went into my solar plexus in a hard painful twisting motion with the full weight of my 190 pound body. I layed on the ground until well after dark unable to move. Probably an hour or more. When i finally made it back to my car I was able to see the result of the crash. It looked like a red softball was growing out of my solar plexus. This took months to go away and to this day that area of my body does not look normal.
I'm a really lucky guy for many reasons but in this case I'm luck because one of my closest friends Greg also happens to own the local bike shop I use. That shop is Class Cycles in Southbury, Connecticut. I was filling Greg in on my last crash when he said "that's it I'm ordering you some body armor" and he did. A few weeks later Greg showed up for Sunday dinner with the LEATT BODY PROTECTOR 3DF AIRFIT, SIXSIXONE EVO KNEE PADS and a pair of SIXSIXONE EVO COMPRESSION SHORTS (Links to similar products so the links don't get out of date).
At first I was self conscious about wearing all this armor. I felt like it was admitting I was getting old or at least my skills were sleeping but eventually I had a realization. The first realization was none of these crashes were due to my skill level or riding recklessly. They were simple albeit painful accidental crashes. It happens. The next realization was that I do not heal as fast as I did in my 20's in fact my middle aged body takes much longer to heal these days. The final realization was I have responsibilities like a job, mortgage, auto loan, college tuition, mouths to feed and of course people who love me. I have a responsibility to keep my body in one piece and that's how we finally arrive at my LEATT BODY PROTECTOR 3DF AIRFIT REVIEW.
LEATT BODY PROTECTOR 3DF AIRFIT REVIEW
Greg caring about my well being saved me all the internet research of determining the best body armor for my needs. I trust Greg's opinion completely and my after the fact research tells me the LEATT BODY PROTECTOR 3DF AIRFIT is one of the best torso protectors money can buy. I bought the large size and it fit my 6 foot tall 190 pound body snugly. If I was any heavier I would have required the XL version. The 3DF AIRFIT is very light and very comfortable. It also made me feel invincible. in fact when I said exactly that my girl stated that if I get hurt Greg would have to take care of me. The only complaint I have with the 3DF AIRFIT is that it pretty warm. In the fall, winter and early spring the negative is a plus but in the dog days of summer it definitely adds sweat.  The 3DF AIRFIT is quite flexible and does not interfere with mobility one bit. There is no annoying seams, chafing,  pinch points or bunching. All good so far. Note: I did need larger shirts and jerseys to go over the 3DF AIRFIT. Not an issue because I have all my jerseys from when I was much heavier.
THE 3DF AIRFIT ON THE TRAIL
Combining the 3DF AIRFIT with the previously mentioned body armor addons has performed very well in my "crash tests" (I do my own stunts). I have crashed many times and while the 3DF AIRFIT ARMOR can't protect me from every personal conceivable type of crash it has made the crashes a lot less painful. It's like I lay there and think holy cow nothing hurts bad or at all. Strangely enough I also feel it's improved my riding by boosting my confidence on the trail.
There was one stand out crash that tested the LEATT BODY PROTECTOR 3DF AIRFIT as well as my BELL SUPER 2R MIPS HELMET. I was riding at the top of West Rock and there's a challenging 50 yard stretch that's filled with rocks bowling ball sized compact car sized with no way to go around or gain speed. Anyhow it was late spring and I was going up a rock much like in crash 1 above the only difference being running water on the rock. This time though as my rear tire hit the lush moss the entire sheet of moss slid off the rock once again allowing my bike to slide backwards. This time though I flipped over perfectly straight backwards onto my back hitting my head and back on the rock bed I just passed through. Fortunately I stood up, shook it off and was fine other than being cold and wet. I believe my outcome would have been much different without my body armor and Bell Super 2 MIPS helmet.
Conclusion
For me the 3DF AIRFIT is a no brainer. Yes it's expensive but your body is priceless.
---
LEATT BODY PROTECTOR 3DF AIRFIT DESCRIPTION
Leatt's soft shell 3DF AirFit Body Protector offers chest, back, elbow and shoulder protection and scores a total of 21 points in the Leatt Protection rating system.
Made of soft and flexible 3DF AirFit impact foam, it conforms to your body shape to offer a comfortable fit. This foam absorbs energy however, protecting you during a crash by taking those hard knocks.
The body protector is compatible with your neck brace and even offers extra upper-chest protection for non-neck brace users. It is further equipped with an elastic chest strap that will ensure an even better fit, and the impact foam's perforated design allows for ventilation.
CE tested and certified as impact protection, this body protector offers the perfect combination of comfort and premium protection.
FEATURES
New longer back protector for even more protection.
Anti-odor Moisture Cool and AirMesh wicking fabrics. to help keep things fresher.
Weight:1,450g
PART NUMBERS
#S/M 160-172cm: 5018101211
#L/XL 172-184cm: 5018101212
#XXL 184-196cm: 5018101213
LEATT BODY PROTECTOR 3DF AIRFIT MANUFACTURERS DESCRIPTION
Total Leatt® protection score of 21 points
3DF AirFit ventilated soft impact foam
CE tested and certified as impact protection:
Chest prEN1621-3 Level 2
Back EN1621-2 Level 2
Elbow and Shoulder EN1621-1
FFM-French Federation Certified
New longer back protector
More comfortable and flexible
Extra upper-chest impact protection layer for non-neck brace users
Anti-odor MoistureCool and AirMesh wicking fabrics (uses zinc pyrithion)
Elastic chest strap to give more secure protector positioning
Our 3D design ensures a great fit that is very comfortable
Easy-to-wear, zip-up compression sock design for maximum evaporation
BraceOn™ neck brace fitting system
Easy to clean: hand wash
Weight: 1.450g
Unisex fit: S/M-XXL (160-196cm)