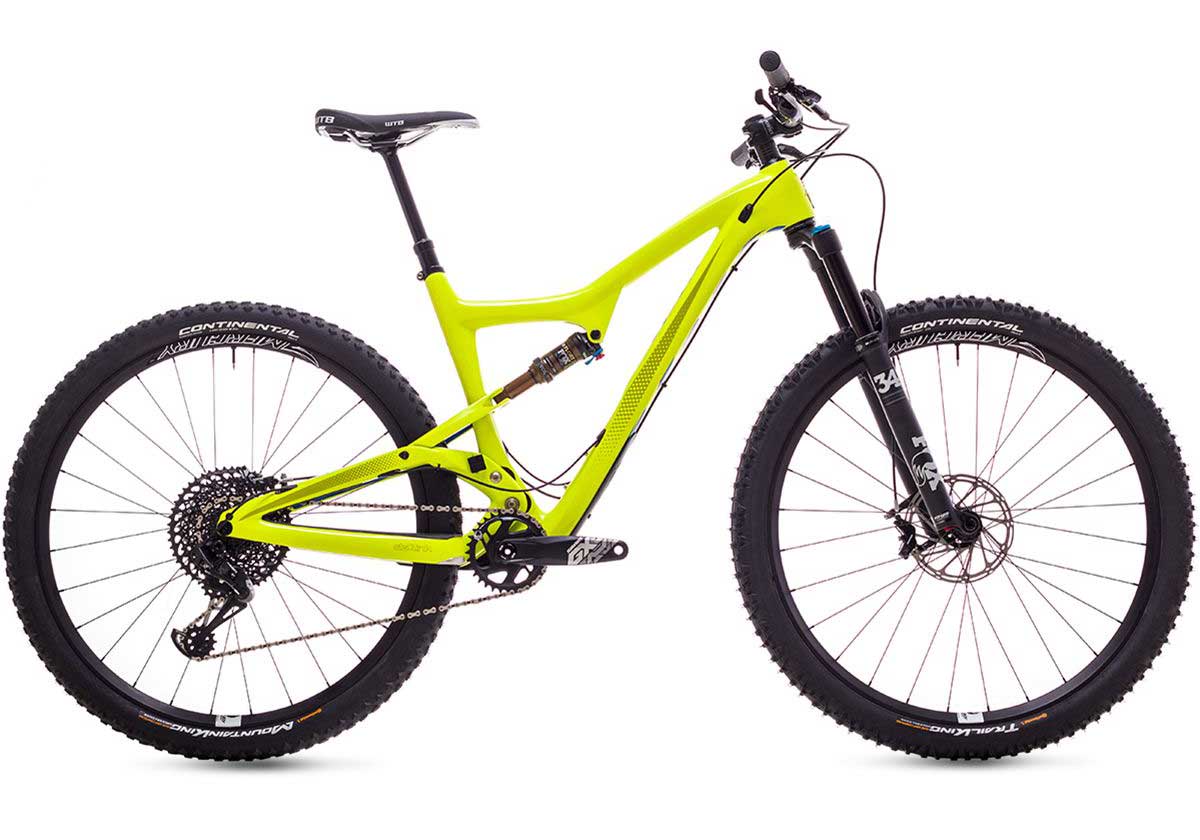 Ibis Ripley LS Carbon 3 GX Eagle Complete Bike 2018
Here's the thing with bikes, manufacturers do not re-engineer new models every year as that would be cost prohibitive, instead they often simply change color schemes and tweak hardware choices to create new models for a new year. This means that sometimes you can get amazing deals on "last year's model". That is exactly the case with the subject of this post the IBIS RIPLEY LS CARBON 3 GX EAGLE build at
Competitive Cyclist
where you can save $1540.00 versus what the bike sold for originally.
Ibis Ripley LS Carbon 3 GX Eagle
Regardless of how much we'd like to deny it, the mountain bike industry can be pretty trendy. While there were times when this proved to have a negative impact with kitschy paint schemes and faulty components that looked great, but couldn't handle the trail, one trend that seems to have truly come as a blessing to us is the long-low-slack geometry that's taking over steeds left and right.
And while we held a candle to the old Ibis Ripley of years past, the new Ripley LS Carbon 3.0 GX Eagle Complete Mountain Bike surges forward, keeping relevant with the times, packing in a mountain of changes that stretch the bike's capability to the aggressive, all-mountain seeker, with increased tire clearance for traction, and 120-millimeters of DW-link suspension that keeps up with the big bikes through the rough and technical trail, and blows past them when its time to point things uphill.
In spite of those changes, this third-gen version of the Ripley retains the nimble handling that leaves you with an ear-to-ear grin on the trail but with a stiffer rear end that may leave a frown on your buddies' faces while you power away on climbs. The stiffer rear end and increased tire clearance are owed to a reconfiguration of the chassis and its dual-eccentric DW-Link suspension.
The upper eccentric link is wider than before for increased stiffness when you're tracking across the rough stuff. There are a new swingarm and clevis mount as well, which is moved backward and down to clear the 2.6-inch tires. Despite those changes, we're happy to report that the reconfigured chassis and swingarm don't affect the praised suspension kinematics of the previous Ripley LS. This means you won't notice a difference in the pedaling efficiency or square-edge compliance from the DW-Link suspension.
Other than its notable upgrades in rear-end stiffness and increased tire clearance, the Ripley LS retains the praised geometry of the last version, namely its moderately slack 67.5-degree head tube angle paired with a low-slung 13-inch bottom bracket for impressive stability at speed. Although it's not quite as slack as much of the competition, the third-gen Ripley LS never feels outgunned on the trail, even when the going gets steep and rocky. We'd credit this to a slightly longer 130mm 34 Float fork keeping things confident and composed out front, paired with 29in wheels rolling on the mid-sized rubber mentioned above for steamrolling roots and rocks.
We'd be remiss to omit the monocoque carbon lay-up of the Ripley LS frame, resulting in an astoundingly stiff, pleasingly light trail whip. For even greater wheel stiffness, the hubs are upgraded to Boost, which creates wider hub spacing for a stiffer bracing angle of the wheel spokes. We should also note that the front derailleur mount only works with Shimano side-swing and Di2 types, should you desire to run a front derailleur in the future. But, frankly, we're not so sure that's necessary with SRAM's workhorse GX Eagle cassette in the back, offering you more gears than you know what to do with, and a whopping 50-tooth bailout cog to get you up the most quad-torching steeps.
The Ripley pulls a long and slack magic trick to take on all-mountain
5in of DW-Link's wagon wheel travel eager for questionable lines
The Longer Slacker geometry makes that travel feel even deeper
Redesigned swingarm ups tire clearance to 2.6in
Lightweight carbon construction gets after it on climbs
Mid-sized tires boost cushion and traction across rooty climbs
SRAM's workhorse drivetrain offers a 12-gear range for power on the flats, relief on the steeps
Frame Material –
carbon fiber
Rear Shock – 
FOX Factory Float DPS
Fork – 
FOX Float 34 Performance
Headset – 
Cane Creek 40-Series
Shifters – 
SRAM GX Eagle, 12-Speed
Rear Derailleur – 
SRAM GX Eagle, 12-Speed
Crankset – 
SRAM GX Eagle DUB Crankset
Crank Arm Length – 
[small] 170mm, [medium, large, extra large] 175mm
Bottom Bracket – 
SRAM DUB BSA
Bottom Bracket Type – 
BSA
Cassette – 
SRAM XG-1275 GX Eagle, 12-speed
Cassette Range – 
10 – 50t
Chain – 
SRAM GX Eagle 12-Speed
Brake Type – 
post-mount disc
Rotors – 
SRAM CenterLine, 180mm
Handlebar – 
Race Face Aeffect R 35
Grips – 
Lizard Skins Charger Evo Lock-On
Stem – 
Race Face Aeffect R 35
Seatpost – 
OneUp Components Dropper, 150mm
Wheelset – 
Mercury Wheels Enduro Alloy 29in Boost
Front Axle – 
15 x 110mm Boost
Rear Axle – 
12 x 148mm Boost
Tires – 
[front] Continental Trail King Performance, [rear] Continental Mountain King Performance
Tire Size – 
[front] 2.4 x 29in, [rear] 2.3 x 29in
Manufacturer Warranty – 
7 years on frame